$ Power Trowel Smooth Finish
Achieved with the use of a power trowel applied after placing as the concrete cures. Recommended for garage, shop and basement floors. Easy to clean, however slippery when wet!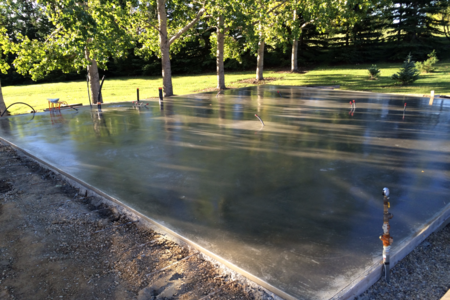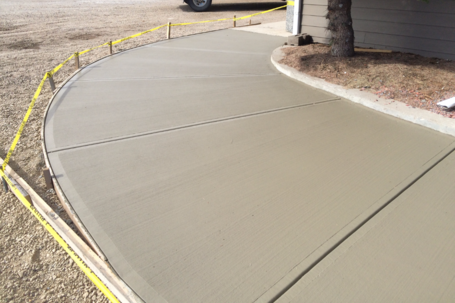 $ Typical Non-Slip Broom or Hand Float Spin Finish
The process of after placing and leveling the concrete, roughing the surface with a broom or hand float to create a slightly textured surface to create traction in wet or icy conditions. Recommended for driveways, sidewalks, stairs, patios and anywhere you might need traction!
Great all year, most common and versatile finish.
$$ Exposed Aggregate Finish
A process where after placing the concrete, a surface retarder is applied, and after the concrete cures enough and the timing is right, the surface is either pressure washed or sandblasted off to expose the aggregate. Recommended for decorative patios, driveways, sidewalk, retaining walls and stairs.
Makes for an attractive finish and can be done with different aggregates, and colors.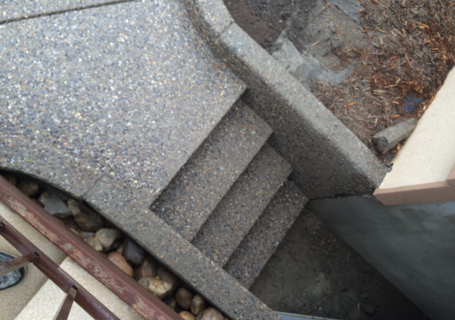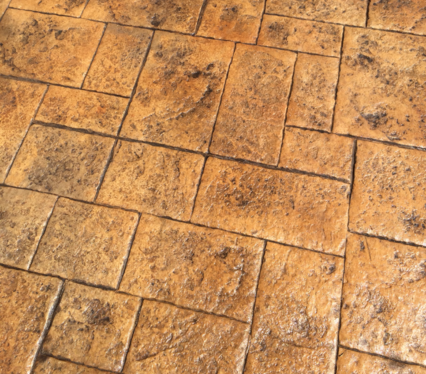 $$ Acid Stain or Acid Etch Finish.
Concrete treated with an acid applied with either a sprayer or a brush and then neutralized.
Recommended for garage, shop and basement floors.Used in decorative concrete as well to achieve difficult colors or multiple colors. Changing the color of your existing or new concrete with an acid burns the color into the top layer of the concrete, thereafter neutralized and sealed. Water-based stains can be used as well in applications where acid stain is deemed unusable. Water based stains are used as well to create an antique effect prior to sealing.
Polished concrete is concrete that has been ground with progressively finer grinding tools.Recommended for garages, shops or commercial application. Extremely durable and relatively maintenance free. Easy to clean, however slippery when wet!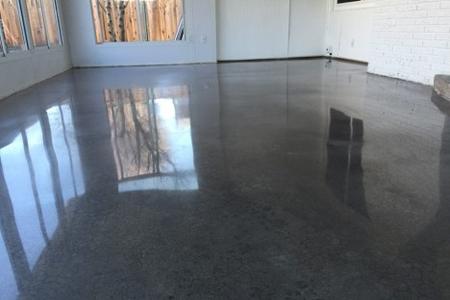 The process of applying either a liquid or powdered release and by use of rubber textured mats, stamping a pattern or design into the plastic concrete. With the use of powdered releases, we can obtain an antiqued look with a colored release highlighting the grain, veins or accents in the stamp. This look can also be done after washing concrete and with the use of stains. Stamped concrete should always be sealed to keep the colors and imprints vibrant and vivid, Recommended for patios, walkways, driveways, stairs of anywhere you would like a beautiful, unique look to your concrete.
Recommended for garages, shops, driveways and any concrete exposed to the elements! Sealer is used to enhance the concrete's beauty in exposed and stamped applications as well as protect it from any corrosive or damaging chemical or environmental risks. Easy to clean, however slippery when wet!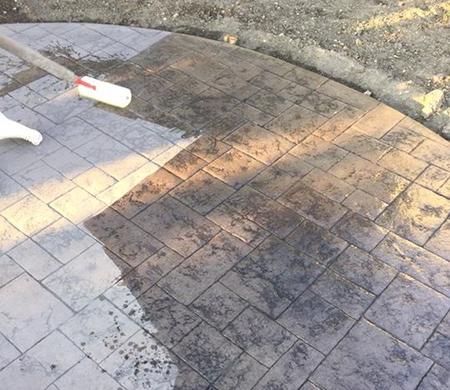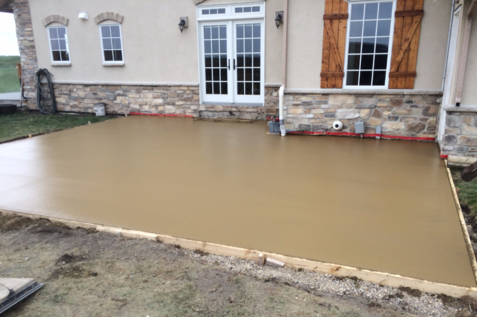 $ Integral Concrete Coloring
Either a liquid or powdered coloring agent added to the concrete mix at the plant to add color throughout the concrete mix. Used in any type of concrete finish.